Archive for May, 2016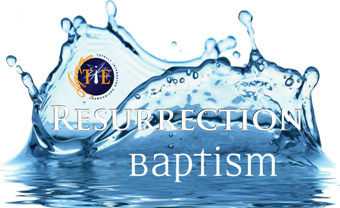 A belief of merely having a resurrection after death is no better than a heathen's belief. It is merely hoping for the best in the after-life. But the one who believes that he has already "crossed over (past tense) from death to life" (Jn5:24NIV) when born again of the Water & the Spirit (Jn3:5), has faith!
The Resurrection of Life or the First Resurrection, as Bro. John Stewart put it, is not like an atom bomb resurrection. I believe, he was alluding to the traditional belief about the bodily "ressurrection of the dead" where just like an atom bomb detonation the entire landscape is changed and everywhere we will see millions of dead, burried people, literally (not spiritually) rising from their graves, having been recomposed from the earth. That kind of resurrection is carnal/fleshly. Paul is clear that "flesh and blood cannot inherit the kingdom of God" (1Cor15:50).
It is with "the beauty of holiness" (Rom1:3-4; Ps29:2NKJV; Ps96:9NKJV; Rom10:15) by which the glorified resurrected bodies will be defined.
The First resurrection happens spiritually, not to mention, powerfully. The phrase "in the resurrection" (Matt22:30; cf. John 11:25) should read as "in Christ." The heavenly vision that Paul saw on the road to Damascus was that today, Christ lived in and through his people. That is, those who put their faith in Him, and were baptized into Him, having been grafted into "the vine" by the Holy Spirit (1Cor12:13) through the ordinance of the Laying on of Hands following Water Baptism for the remission of sins. His people made up His body, also known as the corporation, which the world has copied.
A paraphrase of scripture follows to support my thesis.
This will test to see if your religion will fall to the ground or withstand. Just as it did mine.
John 11:25 —
Jesus said to her, "I am the resurrection and the life; he who believes in Me will live even if he dies."
John 5:24 —
Truly, truly, I say to you, he who hears My word, and believes Him who sent Me, has eternal life, and does not come into judgment, but has passed out (past tense) of death into life. [For, the day he/she believes, is the Day of Judgment for him/her. And THIS is the day he rises again. Yes, THIS is the Day of his/her Resurrection (born-again).]
Romans 6:3-5 NLV —
All of us were baptized to show we belong to Christ. We were baptized first of all to show His death. We were buried in baptism as Christ was buried in death. As Christ was raised from the dead by the great power of God, so we will have new life also [when we do get baptized]. If we have become one with Christ in His death, we will [also] be one with Him in being raised from the dead to new life.
Exodus 3:6YLT —
"He saith also, `I [am] the God of thy father (Amram), God of Abraham, God of Isaac, and God of Jacob;' and Moses hideth his face, for he is afraid to look towards God."
Ezekiel 37:11 Telugu Bible–
అప్పుడాయన నాతో ఇట్లనెను నరపుత్రుడా, ఈ యెముకలు ఇశ్రాయేలీయులనందరిని సూచించుచున్నవి. వారుమన యెముకలు ఎండి పోయెను, మన ఆశ విఫలమాయెను, మనము నాశనమై పోతివిు అని యనుకొనుచున్నారు. (Then He said unto me, "Son of man, these bones are [indicative of] the whole house of Israel. Behold, they say, `Our bones are dried and our hope is lost. We are cut off from our parts.')
We show here how one is Born-again (Resurrected), when we spiritually die, losing all hope to enter into the presence of a holy God, and then immediately born anew with hope rekindled on hearing the good news that a savior exists, and that he even laid down His life for us as payment for our sins.
Matthew 22:23-33 —
23 On that day some Sadducees (who say there is no resurrection) came to Jesus and questioned Him, 24 asking, "Teacher, Moses said, 'If a man dies having no children, his brother as next of kin shall marry his wife, and raise up children for his brother.' 25 "Now there were seven brothers with us; and the first married and died, and having no children left his wife to his brother; 26 so also the second, and the third, down to the seventh. 27 "Last of all, the woman died. 28 "In the resurrection, therefore, whose wife of the seven will she be? For they all had married her." 29 But Jesus answered and said to them, "You are mistaken, not understanding the Scriptures nor the power of God (attributing power to God, beyond that which is warranted). 30 "For in the resurrection  (in Christ) they neither marry nor are given in marriage, but are like angels in heaven. 31 "BUT (in partial agreement with the Sadducees who say there is no [bodily] resurrection of the dead) regarding the resurrection of the dead, have you not read what was spoken to you by God: 32 'I was the God of Abraham, and [then was] the God of Isaac, and [then was] the God of Jacob'? [For] He is not the God of the dead but of the living." 33 When the crowds heard this, they were astonished at His teaching [being that He dashed to the ground their hope of a bodily resurrection].
All Live Him
Luke 20:27-40 —
27 Now there came to Him some of the Sadducees (who say that there is no resurrection), 28 and they questioned Him, saying, "Teacher, Moses wrote for us that IF A MAN'S BROTHER DIES, having a wife, AND HE IS CHILDLESS, HIS BROTHER SHOULD MARRY THE WIFE AND RAISE UP CHILDREN TO HIS BROTHER. 29″Now there were seven brothers; and the first took a wife and died childless; 30and the second 31and the third married her; and in the same way all seven died, leaving no children. 32″Finally the woman died also. 33″In the resurrection therefore, which one's wife will she be? For all seven had married her." 34Jesus said to them, "The sons of this age marry and are given in marriage, 35but those who are considered worthy to attain to that age (perhaps great enough to sustain spiritually/Wordyly (Jn6:63) in the memory of mankind till the end of the age; God's "book of remembrance" is greater) and [carried over according to Heb11:39-40 unto] the resurrection from the dead (the born-again of the water and the spirit), neither marry nor are given in marriage (engage in agape love where erotic love has become inconsequential); 36for they cannot even die anymore, because they are like angels, and are sons of God, being sons (like Lazarus, whom we know by faith rose from the dead for our sake to show that resurrection is possible not only for Jesus Christ but also for other sons) of the resurrection (which is Christ, who said, I am the Resurrection) [or grafted branches in the vine]. 37″BUT regarding the dead being raised [with body and all, recomposed from the earth out of their graves], even Moses showed, in the passage about the burning bush, where he calls the Lord THE GOD OF ABRAHAM, AND THE GOD OF ISAAC, AND THE GOD OF JACOB, [progressively]. 38"Now He is not the God of the dead but of the living; for all live [to] Him" (Phil1:21). 39 Some of the scribes answered and said, "Teacher, You have spoken well." 40 For they did not have courage to question Him any longer about anything.
Heb11:39-40 —
39 And all these (heroes of faith), having gained approval through their faith, did not receive what was promised, 40 because God had provided something better for us, so that apart from us they would not be made perfect.
John14:16-20 —
16 "I will ask the Father, and He will give you another Helper , that He may be with you forever; 17 that is the Spirit of truth, whom the world cannot receive, because it does not see Him or know Him, but you know Him because He abides with you and will be in you. 18 "I will not leave you as orphans; I will come to you. 19 "After a little while the world will no longer see Me, but you will see Me; because I live, you will live also. 20 "In that day you will know that I am in My Father, and you (those who have gone ahead of us) in Me, and I in you (those who are present living on the earth).
Therefore, when Paul says in 1Thess4:13-18 —
13 But we do not want you to be uninformed, brethren, about those who are asleep, so that you will not grieve as do the rest who have no hope. 14 For if we believe that Jesus died and rose again, even so God will bring with Him (i.e. in spirit/Word present in those for whom it concerns; like Elijah was present in John-the-baptist) those who have fallen asleep in Jesus. 15 For this we say to you by the Word of the Lord, that we who are alive and remain until the coming of the Lord, will not precede those who have fallen asleep. 16 For the Lord Himself will descend from heaven with a shout , with the voice of the archangel and with the trumpet of God, and the dead in Christ will rise first. 17 Then we who are alive and remain will be caught up together with them in the clouds to meet the Lord in the air, and so we shall always be with the Lord. 18 Therefore comfort one another with these words.
it is going to be a spiritual rapture or there was already one as per Bro. Harold Camping, where the Lord can technically use online means to do it. And Facebook & Twitter are precursors to the New Jerusalem/Agape Kingdom.
In conclusion, the only supernatural there is, is God Himself. Even Samuel who is said to have been conjured up from the dead is a lie by the medium, who simply challenged Saul. As for the true prophesy that Saul would die along with his three sons the next day, the Father let him have it. Saul's mistake was that he did not go to God, whom he knew was in David. But instead he went scuttling.
That Jesus rose from the dead and is alive today and even giving us epiphanies through His Rhema Word, is true. As my wife Anna Motupalli asserts there is only so much we can know about the after-life when we are put aside this tent to sleep (2Cor5:1; 2Cor5:4) on this side of reality. It is like an immigrant hearing about life in America from various sources. But it is nothing like being in America and experiencing it first hand. So it is with the after-life, this life in the Resurrection, where there are "many [spiritual] dwelling places" (John14:2), after we put away this tent…eternal life. O Soul, do not crave for what is merely of the flesh, which is alive today and gone tomorrow!
An Eternal Life Form in Us
"Because i live, you will live also" (Jn14:19b).
"But you have an anointing from the Holy One, and you all know [that this rhema is an indication of a life form apart from our temporal life]. As for you, the anointing which you received from Him abides in you, and you have no need for anyone to teach you; but as His anointing teaches you about all things, and is true and is not a lie, and just as it has taught you, you abide in Him [by which means you will live eternally]." (1Jn2:20, 27NKJV)
And who is a liar but he who denies that Jesus [plus all flesh that is IN Him] is the Christ [having the anointing]. He is antichrist who denies the Father and the Son. (1Jn2:22NKJV paraphrased)
Related