Originally published on Oct 18, 2016
Proposition:
First off,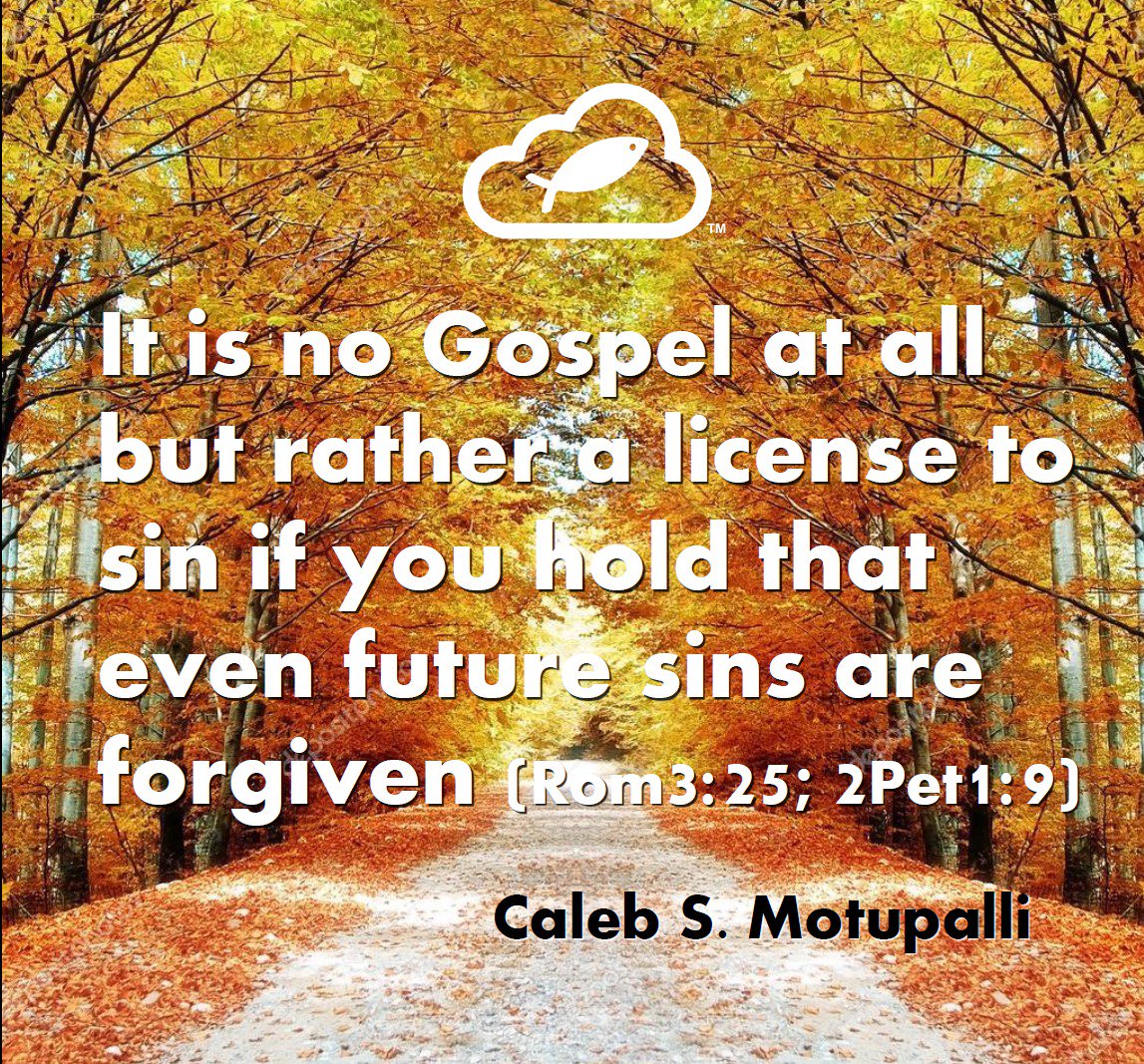 Rom3:25; 2Pet1:9
At the outset, i want to make it clear that we are not disputing that we were saved, once upon a time by the works of Christ. Salvation is past, present and future. We are saved from the penalty of sin. We are being saved from the power of sin. And we will be saved from the presence of sin.
The faith-of-no-boasting (Eph2:8-9) that enabled you to believe in Jesus at the time of being born-again should now enable you to do good-works (fruit). Else your faith is dead and you're going to hell. Therefore, Salvation = Grace + Faith + fruit (works).
Luke10:25, 27-28
If not then what is fair for people who have grown up away from any real exposure to Christianity?
Sure, we cannot work to the extent the Law requires. We fall short of them (Rom3:23). Therefore, no doubt we should not boast in any work of ours but have faith.
If the blood of the Lord Jesus Christ atoned our sins, i.e. paid for all our past sins (not those of the future: Rom3:25; 2Pet1:9) up until the time we washed them, the sins of omission and the sins of commission after the knowledge being imparted have treble penalty than to those people who did not receive grace (Luke12:48; Heb10:26ff).
So say goodbye to the Devil and his children, who are singing the devil's lullaby, "Faith Alone," subverting righteousness altogether and making God's people rest in a mere belief-sans-works. "Little children, make sure no one deceives you; the one who practices righteousness is righteous, just as He is righteous" (1Jn3:7).
The following slides were first released in social media during 2014-2016:
Matt16:12; 1Tim4:1
Jesus rose from the dead by the merits of holiness, not by being deity!
"Jesus Christ our Lord was born of the seed of David according to the flesh, and declared to be the Son of God with power according to the Spirit of holiness, by the resurrection from the dead." (Rom1:3-4NKJV)
(Luke23:34; Heb10:26)
The warning is clear:
A murderer, for instance, upon receiving the Lord Jesus Christ as his personal savior, doesn't become as righteous as one who has laid down his life for his neighbor. That would be laughable and an embarrassment to heaven. He is merely forgiven and given a clean slate. The Biblical term for that is Atonement. That is, only our past sins are forgiven (Rom3:25; 2Pet1:9).
His righteousness is applied to us for atonement before we are grafted into the vine. When grafted into Jesus, the vine has righteousness, not the branches. Branches need to abide to bear fruit/righteousness. Otherwise they too will be cut-off (Jn15:1-11; Rom11:21ff).
2Cor6:2 says:
"In the time of my favour I heard you,
and in the day of salvation I HELPED you."
How did He help us? He helped us by wiping away all our PAST sins (Rom3:25; 2Pet1:9). It would NOT be considered as HELP if He also granted us His righteousness. That would be more than mere help. It is help because we can now (at the time of being born-again) start our life with a CLEAN slate, not with a deposit.
(Jn3:3; Rom3:25; 2Pet1:9)
To see the kingdom, we need to be born-again (Jn3:3), which is to humble ourselves and consider ourselves as a 'nothing,' wholly dependent on God. In order to enter the kingdom, we need to be baptized (Jn3:5), which is the first fruit. Subsequently, we need to now write on the clean slate with righteousness–bear more fruit–because…
(Phil2:8-9NIV)
(2Pet1:9; Rom3:25; 4:5)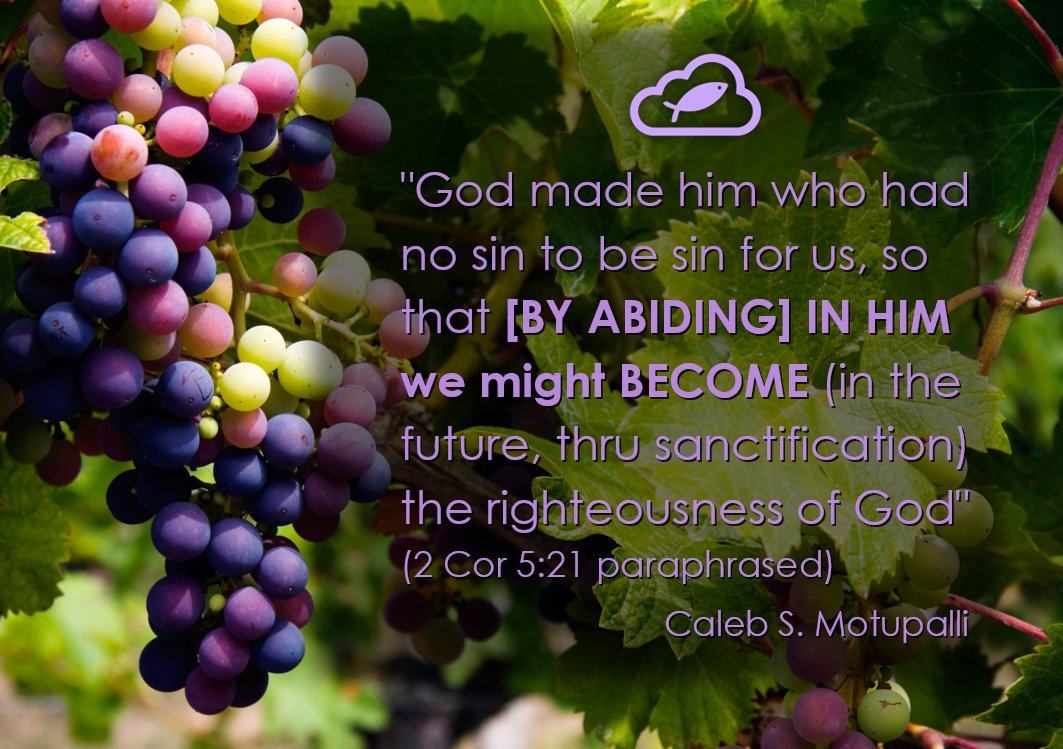 (2Cor5:21)
(Matt16:24; 1Jn3:16)
(Matt16:24; 1Jn3:16; 1Pet4:19NKJV; Rom6:18; Rom8:12-13KJV; cf. Gal3:1-5)
Like a true Muslim–in the sense of "one who submits to God"–we submit our freewill to God's will, just like Jesus did in the Garden of Gethsemane, saying, "Not my will, Father, but Thine be done!" (Luke 22:42).
Heb6:1
(Gal5:16)
(2Cor5:3-4NKJV)
For mortality to be swallowed up, Paul speaks of being further clothed over on top of the basics/underwear. He also instructs every woman, including the Bride of Christ, to be clothed with good deeds (1Tim2:9-10).
"Now having been set free from sin, and having become slaves of God, you have your fruit to holiness, and the end, everlasting life." (Rom6:22)
Cf. Phil2:13
Matt22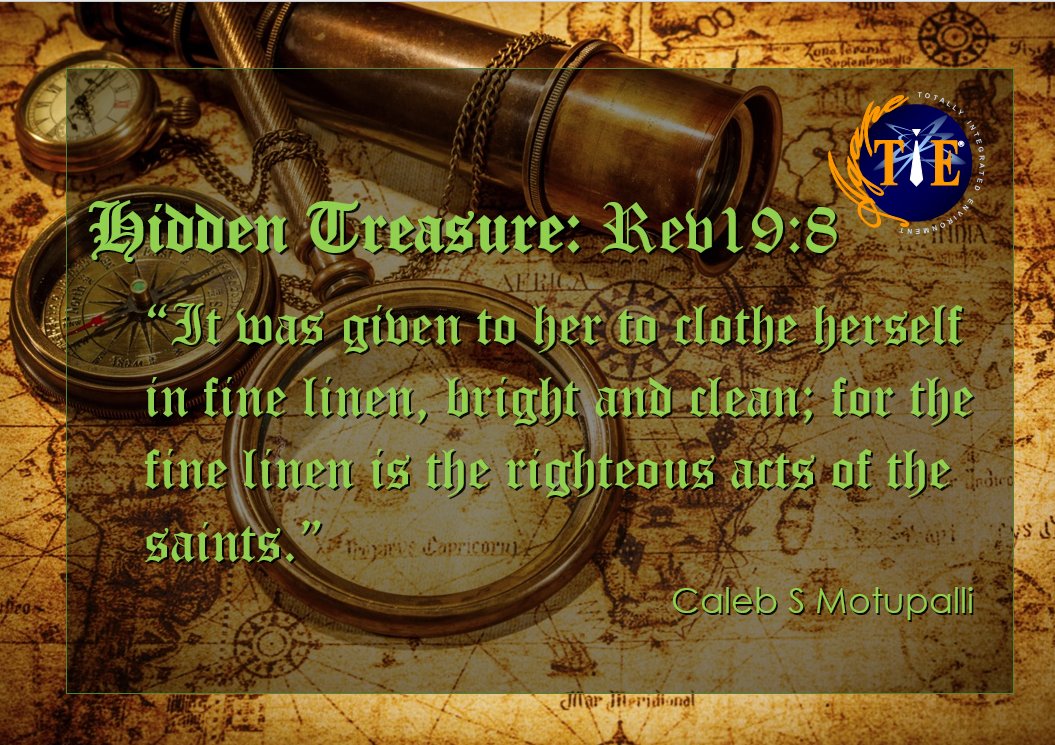 Rev19:8
From Rev19:8 we understand that this "further clothing" (2Cor5:4) are the righteous acts of the saints. Notice that these acts are not that of the Lord Jesus Christ nor of the Holy Spirit. In other words, these are imparted righteousness, over on top of the basics/underwear, which Christ gave us upon being born-again (imputed righteousness). In the final analysis these are the Wedding Garments we ought to be dressed up in, not remain in our first birthday clothes (diapers).
This 2Cor5:4 concept of not being unclothed of the basics/underwear but of further clothing over on top of them, is most prevalent even in today's culture of clothing. Therefore, we can safely say that works are necessary for salvation, without which we will be thrown out, where there will be weeping and gnashing of teeth (Matt22:1-14).
(1Jn3:7)
(cf. Jn13:35)
Rom12:1NASB
Luke10:25, 27-28; Rom4:3; Jn8:56
(Matt5:20)
That leads to the question of Eternal Security…
(Luke12:48)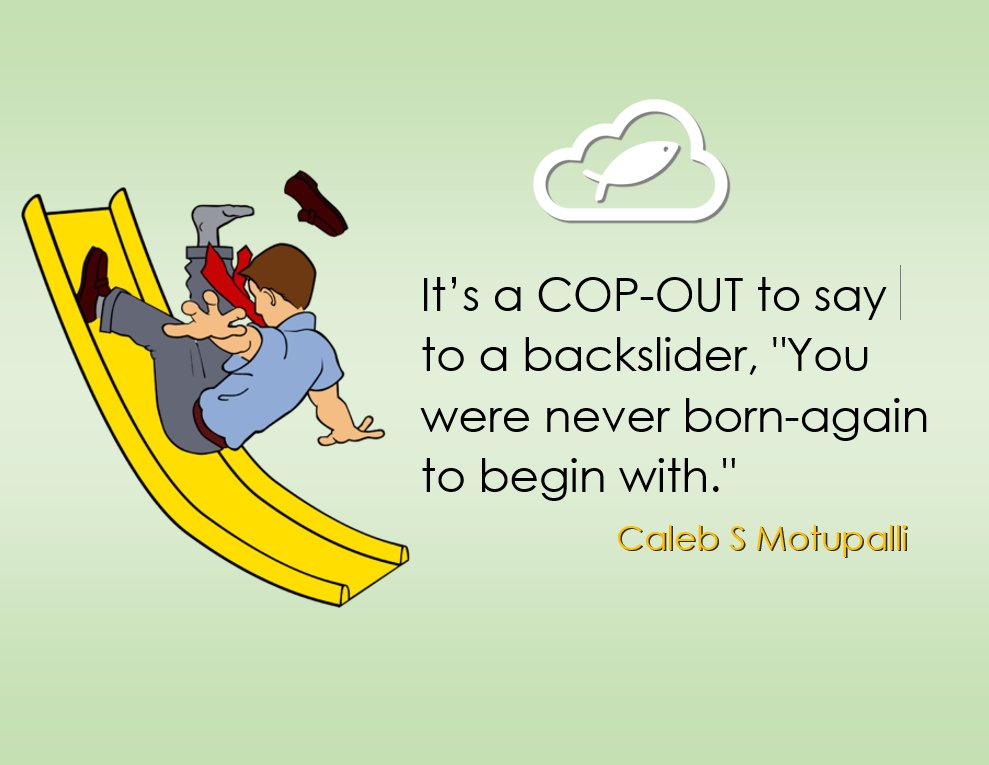 Out of the four kind of soils that Jesus spoke of in Matt13, only one kind was like the seed that fell on the way side (i.e. never born-again to begin with). But with the rest of the three, per Jn12:24, the seed in fact died and was born-again. But only one out of those three endured to the end and was saved, per Matt10:22 & Matt24:13. So, there is no such thing as once-saved-always-saved!
(Matt18:23-35)
So we see: Jesus leaves us no room for a Salvation based on a "Faith Alone" (passé) theology!
Pastor John Piper, founder of Desiring God and chancellor of Bethlehem College and Seminary, on 14 October 2016 issued this breaking news:
Thus says the Lord on Wednesday, 19th October 2016:
"If I cast out demons [like 'Luther/Faith ALONE' from strongmen like John Piper] by the Spirit of God, then the kingdom of God has come upon you."
Thus says the Lord on Wednesday, 2nd November 2016:
"He cast out the spirits with a word, and healed all who were ill."
Thereby, Luther now stands overturned!
Dr. John Piper reiterates his stand on both "Eternal Security" as well as "Faith-ALONE" doctrines in this video:
R. C. Sproul is famous for saying:
"The article of Justification by Faith Alone is the doctrine on which the Church stands or falls."
Speaking of Luther-Calvin Church, Jesus predicted:
"The rain fell, and the floods came, and the winds blew and slammed against that house; and it fell—and great was its fall." (Matt7:27)
With the fall of the Goliath-like strongman, it is God, who has declared that the Faith-ALONE (Lutheran-Calvin) Church has fallen. This was confirmed again on 11th November 2016. It is Christ, who brings these charges against the Luther-Calvin Church (cf. Rom8:34; 8:3). The ramification of this is that we NO LONGER sit back and supposedly "pray" for God to do all the leg-work as well. As servants of God we all need to form companies with a not-only-for-profit motive in order to love like never before and show that we are indeed the disciples of Christ (John13:35), bearing fruit for life everlasting. The fruit can be in the form of souls (1Cor16:15), good-works (Col1:10), praise (Heb13:15), financial (Rom15:26-28), quality of character/spirit (Gal5:22), enlightenment (Eph5:9), righteousness (Phil1:11; Heb12:11), holy anger/justice (1Sam11:6; Mark3:5), godly jealousy (2Cor11:2), etc (Rev22:2). But remember that demonstration takes sacrifice, and it is way superior than merely saying: "I love you."
Related