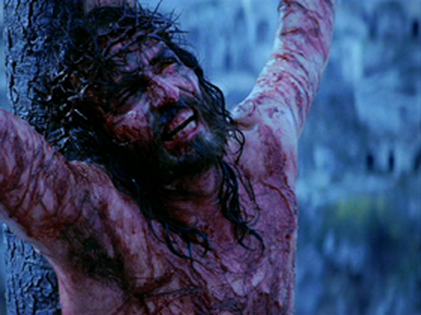 First off, the Jihad crap we see these days mustn't dissuade true sons of God from embracing some specific truths of Islam. These truths (namely submission & Abba Akbar) have been lost in modern Christianity. These are diamonds beneath all that crap. It takes real spine to acknowledge the truth found in the mouths of your enemy. Let's not shy away from the truth, however bitter it may be now.
If Isa53:1-2, Col1:15 and Rev3:14 are true, then, in the beginning God created Jesus. He is "like a shoot" (having a beginning) that grew up before Him. In the beginning was the Word (Jn1:1). As for Father God, He has neither beginning nor end. But Jesus is Alpha & Omega.
Abba Akbar! (آبا اكبر) It means, the heavenly Father God–of not only Jesus Christ/Isa AL MASIH/Yeshua HaMashiach but also of all true Muslims, Jews & Christians–is the greatest (Jn14:28; 1Cor11:3).
Therefore, "Allahu Akbar" & "Praise the Lord" should become, "ABBA AKBAR/ELYON!" Allow me to explain:
יהוה/God/الله/ईश्वर is the only God with the big 'G'. Almost all English translations of Heb1:8 have incorrectly translated 'theos' as 'God,' where it ought to be 'god'. The translators should have made a distinction between the theos (God) who was speaking and the theos (god/Jesus) who was being addressed, since the Old Testament does speak of "God of gods". Also, Heb1:9b is in agreement with Jn20:17.
Jesus is god (with the little 'g'), the "firstborn of all creation" (Col1:15; Rev3:14) in human form, and co-creator with God of everything else (Jn1:3; Job38:5).
Jesus–God's Arm/Word incarnate–is 100% man only, infilled by the Holy Spirit, like you and me (the born-again). Is it not greater for a man (a perfect man at that) to die for the sins of the world than for a deity or an angel to die for the world? Here's why: Look once again at the picture on the side; if He is deity i would think He is only feigning pain, etc. For, no one can kill God let alone give Him physical pain. You can snuff Him out of your system (1Thess5:19) but you cannot kill Him. Even if  God too can be put to death (1Thess5:19-20) because we are in His image and vice versa, the greatness in the Resurrection is that it was performed by a man by virtue of His sinlessness. He rose from the dead because of His holiness (Rom1:3-7) not because of being a deity. For death is the wages of sin only (Rom6:23), and not so if you were holy. "If His suffering is not in human form, then work on the Calvary is not really [something] to talk about".
As for the miracles, He did them all "by the finger of God" (Luke11:20). But He is the only one with the title, al-Masih (Quran) = Anointed One/Messiah (Tanakh) = Christ (The Bible).  Anointed of what? Anointed by the Holy Spirit. Colossians 2:9 reads: "For in Christ all the fullness of the Deity lives in bodily form" without becoming one substance with Him. They are two different substances, each having their own independent will. Jesus was like us in every way possible! Yet, it is NOT polytheism because Jesus' will, as well as the wills of all gods (sons of God) is subservient to God's will.
No where in the Bible it says that there are three persons, who are ALL GODs. No doubt the Son AND the Holy Spirit are part of Father GOD, even sharing His ID in Jn1:1 in order to distinguish God from the FALLEN creation, but They have also been created (Col1:15; Rev3:14) and subservient to Him. Big difference from the Three Person Godhead of the Trinity doctrine! The Father is supreme (not coequal), while the Son along with all other sons and adopted sons, AND the Holy Spirit, are subservient to Him (1Cor11:3; Ps98:1; Jn14:28).
Note carefully once again what Jn1:1 is teaching us: "In the beginning" (this itself indicates that what follows had a beginning, distinctly different from the creator who has neither beginning nor end). "the Word WAS with God [in the beginning – v.2] and the Word WAS God" — John is very clearly saying here what Isaiah stated in 53:1-2 that Jesus is the Arm with God and since it was then part of God Himself the Word/Jesus/Arm shared the ID of God with the Father, distinguishing Themselves from the FALLEN creation.
Why did Isa/Jesus say: "I and the Father are ONE" (Injeel Jn10:30)? Because Isa and the Father are NOT partners, in the sense of two separate entities coming together for one purpose. They are one and the same. "In the beginning was the Word, and the Word was with God, and the Word was God" (Injeel Jn1:1). Now consider this little illustration: With respect to others, Caleb's head and his arm are one, right? Both, the head and the arm, can claim to be Caleb, without a shadow of doubt. But with respect to each other, arm listens to the head. One serves the other. Now read Isaiah53:1 and note that Isa/Jesus is Arm of Abba Akbar.
There are biblical analogies as well to support our argument:
Tree trunk :: Father;
Branch :: Son (Isa53:1; Zech4:12); branches :: other sons grafted (Jn15:1-11; Rom11:17-23); and
Sap that flows :: Holy Spirit (Psalms92:14).
Together, One God/Allah/Yahweh. Monotheism.
BTW, hypostatic union precludes better management by local lords/gods (Mt17:5; Jn5:27). We too can be filled by the Holy Spirit and do great miracles by the finger of God. God (the Right Arm of God–Isa53:1; Ps98:1) became flesh–that is, incarnate. He "emptied Himself" of His divinity and took on the form of man (Phil2:6-9NASB) in order to identify with you and me. Jesus, the Word, was in the beginning as the Arm of God (Micah 5:2; Isaiah 53:1), was with God, was God (John 1:1). Jn1:1 can be paraphrased as: "In the beginning WAS the Word, and the Word was with God [as an Arm], and the Word WAS God [being that He was part of God and shared His ID]".
This video by David Wood speaks volumes about how Jesus claimed to be God:

Then the Word became flesh/incarnate (John 1:14). That is, He emptied Himself of His divinity (Philippians 2:6-8NASB) and became man–fully man only. Let alone being God, Jesus was "made a little lower than the angels" (Hebrews2:9). Christ has a peculiar glory of a god-man (god with a lower 'g'), who knows most things if not all things, as clarified by the Lord Himself in Mark13:32.
Those who do not confess this have the spirit of the anti-Christ or the spirit of error (1 John 4:1-6; 2John7). The reason for such strong condemnation is because: Jesus gets disqualified to be our kinsman redeemer if any bit of deity is added to Him, over and above what we enjoy. The whole plan of God to redeem mankind will be an utter flop. In fact, we see that even the Father's presence departed from Jesus when He was taking the penalty that was due us, on the cross. So we see Him crying, "Father, why hast thou forsaken me?" This was because He became "sin for us" (2Cor5:21) and in keeping with the Law of Christ–"if your right hand causes you to sin, cut it off"–the Father severed Him. But Jesus had life in Himself (Jn5:26) and rose from the dead. Now, my objective here is not to dethrone Jesus from godhood, but rather to show that any addition to His humanity (like saying fully God, fully man) will only belittle the sacrifice that He made for mankind! Firstly, it is a sacrifice of leaving the heavenly comfort and coming down to earth, and then of becoming a man (imagine if you were to become an ant to save a colony of ants), and then of living a perfect life, and then of dying (experiencing everything that you and i would experience if we were on that cruel cross). How can God show that death is only for sinners if Jesus enjoyed certain powers that we humans do not; powers that enable Him to rise from the dead? The Resurrection had to have happened because God wants to show that death is only for sinners, not because Jesus is God. Consider:
"But we do see Him who was made for a little while lower than the angels, namely, Jesus, because of the suffering of death crowned with glory and honor, so that by the grace of God He might taste death for everyone….Therefore, since the children share in flesh and blood, He Himself likewise also partook of the same, that through death He might render powerless him who had the power of death, that is, the devil, and might free those who through fear of death were subject to slavery all their lives. For assuredly He does not give help to angels, but He gives help to the descendant of Abraham. Therefore, He had to be made like His brethren in all things, so that He might become a merciful and faithful high priest in things pertaining to God, to make propitiation for the sins of the people. For since He Himself was tempted in that which He has suffered, He is able to come to the aid of those who are tempted." (Heb 2:9,14-18)
Let alone being God, Jesus was made "lower than [even] the angels". The reason is also given: "so that by the grace of God He might taste death for everyone…." Elsewhere in Gal4:3-7 we read:
"Even so we, when we were children, were in bondage under the elements of the world. But when the fullness of the time had come, God sent forth His Son, born of a woman, born under the law,to redeem those who were under the law, that we might receive the adoption as sons. And because you are sons, God has sent forth the Spirit of His Son into your hearts, crying out, 'Abba, Father!' Therefore you are no longer a slave but a son, and if a son, then an heir of God through Christ."
Being God and being man are mutually exclusive.  A man can be possessed by God (which is the case with Jesus as well as all those who are born-again), but he cannot be God and man at the same time. Also, Jesus claimed to be god insofar as we too, who are born-again and recipients of the Word of God, can claim to be god (Jn10:35).
Man-Almighty
"Concerning His Son, who was born of a descendant of David according to the flesh, who was declared the Son of God with power by the resurrection from the dead, according to the Spirit of holiness, Jesus Christ our Lord" (Rom1:3-4 emphasis mine).
This means that He was promoted to the position of Man-Almighty (i.e the preeminent Son of God) only after He bore the cross. Until then "He learned obedience from the things which He suffered". How, a man-almighty? Remember, He was the "last Adam" (1Cor15:45), which means He too was created (Col1:15; Rev3:14) in the image of God like Adam (Gen1:26), who too is a son of God (Luke3:38). Though their roles are different: "The first man, Adam, became a living soul; the last Adam became a life-giving spirit."  But in Jesus' case, He never sinned. He too was a perfect man like Adam and Eve before their fall, in the image of God, who is an almighty. But in order to raise and restore man to his original position, He first partook of humanity by being born of Virgin Mary, who was of the fallen mankind (Luke 1:47), then kept Himself pure by not sinning by the indwelling power of the Holy Spirit. That is, Jesus had to have had the DNA of Mary for the purpose of possessing sin nature, in order that with His Spirit, He can get to subdue and mortify it. When put to death, He rose from the dead because death is the wages for only those who sin but not so if you never sinned. That a totally innocent man needs to be put to death so that "his blood would be upon us and our children" and then for him to rise again from the dead to show that our sins have indeed been forgiven in him, is self-evident, requiring no evidence to defend it.
Born-again = Resurrected!
In Rom6:1ff we see: "All of us who have been baptized into Christ Jesus have been baptized into His death. Therefore we have been buried with Him through baptism into death, so that as Christ was raised from the dead through the glory of the Father, so we too might walk in newness of life."  Therefore, the Born-again experience is our resurrection! Just as Jesus said: "I am the resurrection and the life; he who believes in Me will live even if he dies, and everyone who lives and believes in Me will never die" (Jn11:25). "As many as received Him, to them He gave the right to become children of God, even to those who believe in His name" (Jn1:12). So you and I, who are reborn/born-again, are sons of God too, with Jesus Himself being the Firstborn of all creation (Gen1:3; Col1:15; Rev3:14) as well of the re-creation (Col1:18). John Piper chose a good example in the resurrection of Lazarus for the occasion of the 10th anniversary of 9/11. Lazarus's resurrection goes to prove our futuristic resurrection of being born-again. However, since our Lord is Himself the Resurrection and the life, John Piper hit the bull's eye by saying that Christ wants us to see with our faith-eyes, in our being born of the spirit and the water, our own bodily resurrection IN His, which took place three days after He tasted death! These faith-eyes are present in those who believe even though they have not seen. And God expects us to use them to see with them. God's glory is not a flagrant display of His powers, which is how the resurrection of Lazarus is commonly misunderstood. To know what is glory, we have to turn to Exodus 33:17-19 and John 1:14. God's face (Justice) and not His back (Goodness), is the best of Love. If God is administering Justice for the folks in the Twin Towers, it is not merely on them, it is on the nation as a whole. Don't we see the devaluation of the American Dream? It is what Love has to offer to the world as a whole, because God is against the proud and the arrogant, but actually gives grace to the humble (James, Peter).
If you insist on continuing in your error of 100%-God-100%-man refrain, fine! Then Jesus gets disqualified to be your kinsman redeemer. You can't have it both ways.  According to John 17:3, ("And this is eternal life, that they know you the only true God, and Jesus Christ whom you have sent") you have eternal life only when your searching leads to knowing Father God and the Son, for who They are!!!
So the glaring truth is: if you are a Trinitarian, you DO NOT have eternal life itself. This doctrine  is as cutting as that! So REPENT from your stiffneckedness, misrepresentation of Christ, and of going overboard!
The tradition that "Jesus is God Himself" was good insofar as to abolish "all rule and all authority and power" (1Cor15:24). For, "all things work together for the good of those who love God and are called according to His purpose". On another aspect of that good, John MacArthur (or the Spirit) leads the Trinitarians to reconsider their position about the deity of Christ by answering the question, "What do you mean all things work together for good?"
"What's the good?  Verse 29, here it is.  Here is the good.  "Whom He foreknew He predestined to become conformed to the image of His son."  Now there is the ultimate work of the Holy Spirit, to conform us to Christ.  Okay?  The Holy Spirit does His work in us so that everything works together toward one ultimate good and that ultimate good is conformity to the image of the Son of God.  So the He then becomes the preeminent one among many who share His likeness.

So what does the Holy Spirit want to do in your life?  Simply stated.  Conform you to whom?  Christ, to make you like Christ.  To be conformed to the eikon, the eikon, the image of Christ.  He works in us to make us like Jesus Christ.  This is what Paul talks about in Philippians when he said, "I press toward the mark."  And you say, "Well, what's the mark?"  The mark is the prize of the high calling.  What's the prize when we're called on high?  We'll be like Christ.  What we will become when we're glorified is the goal even now in our sanctification. What we will become if we've been predestined and called and justified, we will be glorified and when we're glorified, we'll be made like Christ, 1 John 3, we'll be like Him because we see Him as He is.  That is the final objective, the Holy Spirit will take us there.  In the meantime, until we are glorified and made like Christ, the work of the Holy Spirit is to ever increasingly conform us to His image.  To understand His work then, we need to look at Christ.  We need to look at Christ because we're going to see in Christ who is fully man, a picture of the perfect work of the Holy Spirit."
The Son of God emptied Himself of NOT merely His divine prerogatives, but of His very divinity itself. Mind you, our Lord did not simply become a God-incognito. For Him, becoming a man, was as substantial as it would be for us if we were to become an ant. Perhaps more humbling. Now, consider John MacArthur again:
According to Luke 1, He was conceived by the Holy Spirit.  According to Luke, He was matured by the Holy Spirit, growing in wisdom, stature, favor with God and man.  According to Mark 1, He was anointed by the Holy Spirit at His baptism.  According to Luke 4, He was sustained by the Holy Spirit in His temptation.  According to that same chapter, He was empowered by the Holy Spirit, Luke 4:14 and 15, for ministry.  He was filled with the Holy Spirit so that He walked perfectly in obedience.  He was perfected by obedience, wrought in Spirit power and through suffering by which He learned obedience.  Hebrews 9:14 says He faced death triumphantly in the power of the Holy Spirit.

It was the Holy Spirit who was operating in Jesus. Romans 1 says He was raised by the power of the Holy Spirit.  Even after His resurrection, His post-resurrection ministry, according to Acts 1:1 and 2, was in the power of the Spirit as He taught things concerning the Kingdom.

Now listen, the Holy Spirit was to Christ as He is to us.  If you want to see the perfection of the work of the Holy Spirit in us, look at the work that He did in the perfect man.  Let me go back over that a moment.

Jesus was conceived by the Holy Spirit and it is the Holy Spirit who gives us life, born of the Spirit.  Jesus was matured by the Holy Spirit, it is the Holy Spirit who grants us power to grow.  He was anointed by the Holy Spirit at Baptism, it is the Spirit by which we are baptized into the body of Christ.  He was sustained by the Holy Spirit in His temptations.  It is the Spirit who strengthens us in the inner man in the midst of our temptations.  He was empowered by the Holy Spirit in ministry.  It is the Holy Spirit who gifts and empowers us in ministry.  He was filled with the Holy Spirit, there might be a demonstration of the fruit of the Spirit and holiness, it is the Spirit who fills us and produces fruit in us.  He was perfected by the power of the Holy Spirit in obedience, and the Spirit does the same in us.  He faced death triumphantly in the Spirit.  It is the Spirit of grace and glory who sustains us in our suffering.  He was raised from the dead by the Spirit.  It is the Spirit who raises us up as well.

If you want to see the ministry of the Holy Spirit and how He works in us, look at what He did in Christ.  Of course, in Christ there's perfect compliance, but the Holy Spirit was to the Son of God who He is to us.  The Holy Spirit has committed to do in us the work that He demonstrated in Christ.

…

In other words, the ministry of the Holy Spirit is to lead you into the truth, to disclose the things of Christ to you in order that you might be conformed to Christ's likeness.  Just an amazing simple reality.  The Holy Spirit does in us what He did in the Son, conforming us to the very image of Christ.

Jesus shows us what perfect humanity looks like…perfect humanity looks like.  The Spirit is conforming us to Christ, empowering God's redeemed elect, to triumphant in time over the power of sin, flesh, Satan, and the world. Empowering us to be more and more like the Son of God.  The Holy Spirit is working in us holy knowledge, holy doctrine, holy deeds, holy attitudes, holy words, holy character, holy actions, holy ambitions, holy longings, holy affections."
Now that you know who Christ is and who Father God is, the knowledge of which is eternal life (John17:3), let us stop this propensity of going overboard and misrepresenting Christ. Pastor John MacArthur terms it as using God's name in vain. He admits:
"There has been a ground swell that has continued and continued and continued and maybe even gotten a little carried away where now everything is to point to the cross and everything is to look at the cross and everything is to contemplate the cross.  We have defended Christ with a vengeance and a relentless commitment whenever He is attacked.

…

Anything attributed to God that is not of God is taking His name in vain.  To think of God, to conceive of God, to refer to God as other than He is and to assign to Him things He would never do, words He would never say is to take His name in vain.  It isn't just swearing, it is ignoring what is true about God.  It is misrepresenting God.  This is the most severe thing."
I am grateful to my brethren among the Jehovah Witnesses, who faithfully & humbly delivered some of these verses to me even at my doorstep. I am not ashamed to call them my brethren. At one time, they may have denied the Lordship of Jesus Christ but, i believe, not anymore. That is minor compared to what the Trinitarians have done.  The Trinitarians have to be washed by those verses mentioned and abandon the anti-Christ stance they now have. They  are misrepresenting Christ in a big way. It brings damage to His name by casting Him as an usurper (Phil2:6KJV; cf. Phil2:6NASB; Phil2:6NIV), no different from Lucifer.
"The Blasphemy"?
"For a good work we do not stone You, but for blasphemy; and because You, being a man, make Yourself out to be God" (Jn10:33) is the false perception and misconception the Pharisees had about Jesus' claim as the Son of God. To the Pharisees, Jesus' claim of "Son of God" meant making Himself equal with God (cf. Jn10:36), which is incorrect. Jesus corrects them by quoting from Psalms in v.34 (Jesus answered them, "Is it not written in your law, 'I said, "You are gods"'?) and gives the basis for His claim as not 'God' but as 'a god' (Jn10:34), what's more, a preeminent one at that (the "firstborn" Son – Col1:15; Jn10:36) by virtue of being part of God like a branch is (a natural one in the case of Jesus) to a tree.
But it was not His failure as much as it is the stony hearts of the jews/Pharisees (cf. Matt13), who did not understand and were trigger-happy more than anything else. Therefore we see that He was INNOCENT of any blasphemy but was crucified anyway. They falsely accused Him of trying to make Himself equal with God by His mere claim to be God's Son (a god). What is more, that accusation stayed and became the de facto ID for Christ and what have you, with King James even using that ID in the KJV Phil2:6 for Christ, even portraying Him as an usurper. I will not be surprised to find out that the co-equal trinity false doctrine sprang solely out of Phil2:6KJV.
King James also perpetrated the so-called "UNKNOWN TONGUE" (1Cor14:4) strange fire business, where the word 'unknown' was inserted into the text by the translators without having a corresponding word in the Greek texts.
So in conclusion: Saying, "God the Son" is "Strange Fire." Son of God =/= God the Son. Trinity is a pagan concept. In the beginning there was only One. Monotheism. The Holy Spirit can be thought of as the warmth of the sun, where sun is the Father and rays of light are the Sons of God, first of whom being Jesus (Col1:15). "In the beginning was the Word (Jesus) [uttered by God], and the Word was with God [as a right Arm – Isa53:1], [and being that the Right Arm is part of God], the Word was God" (Jn1:1). Saving the "thunder" for me, this is the "elephant" in the recent "Strange Fire" conference held by Pastor John MacArthur. The Lord Jesus Christ has 100% God dwelling in Him (Col2:9) while He Himself is 100% man only when He walked the earth. This is the correct hypostasis of Christ Jesus. Man-almighty and god-almighty are synonyms really because both are in God's image. The Son of God (Jesus) was made to be a little lower than the angels, who learnt obedience through suffering and then declared "Son of God with power" (Man-almighty) upon His resurrection (Rom1:4). So calling the Son of God, a Man-Almighty, or calling Adam (god/son of God) before his fall, a god-almighty, we are not misrepresenting. Because that is the goal anyway, toward which we are called to strive.
As for Kafirs among you, know that without putting the Christian Faith through fire, such as Quran18:4-7, it could not be proved genuine!
When God said "Let us" (Genesis1:26) the 'us' is used as a respectable reference to self as in "manam" (Telugu: మనం). Likewise 'thamaru' (తమరు plural 'you' in Telugu is 'atem'/אַתֶּם in Hebrew) is also used to address a single individual, in a respectable manner. Therefore, the now Chosen Telugu people show that in fact the Law of God is etched on their heart (Rom2:11-29; Heb8:10; cf. Heb10:16). BTW, 'abba'/అబ్బ is used every time a Telugu person cries out in pain [to God].
That God was somehow "three" in the beginning is incorrect. Of course, Jesus was from the beginning (Micah5:2; Isa53:1; Jn1:1; Col1:15; Rev3:14) as a Right Arm of God.
It is pure monotheism that even Jews AND Muslims can agree upon.
Related Articles
John MacArthur at the October 2013 Strange Fire Conference:

Tags: christology, god, jesus